Atletico Madrid vs Osasuna
sab, 14 dic 2019

, Estadio Wanda Metropolitano

.

Nota bene:
* La data e l'orario esatti per la partita vengono confermati fra 4 e 10 giorni prima dell'incontro.
* SI RICORDI! NON avrà mai posti singoli. Sarà sempre accanto, subito avanti o dietro i suoi amici se si prenota insieme. Questo è garantito!
* Avrai sempre dei biglietti fra i tifosi in casa o nella zona neutrale.

Consigliamo di leggere attentamente i nostri termini e le nostre condizioni prima di completare la prenotazione su MadridCalcio.it. Questo è MOLTO importante.

Di seguito si trovano informazioni sulle categorie dei posti a sedere da prenotare.

CATEGORY LONGSIDE:

* Tickets are in ring 3 (Upper Longside, Lateral Oeste). The Burgundy Red area on the arena plan.

CATEGORY SHORTSIDE:

* Tickets are in Short Side (Short side is the entire goal side).

VIP CLUB ESTE

:

* Tickets are in ring 2 (Longside), Block 228, row 11.
* Centrally located in the East Stand in the heart of the middle tier.

* Easy and direct access to lounge from ground level and parking.

* Family friendly lounge below, interactive food stations.

* New catering experience, street-market style, buffet.
* Food & Drinks included.

* 1 parking space per 4 persons.
Stadio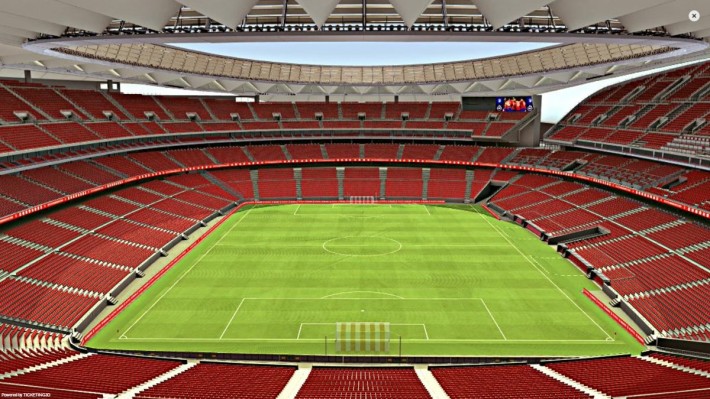 Estadio Wanda Metropolitano
Metropolitana
Line 7 Estadio Metropolitano (Olimpico)
Capacità
67.000
Indicazioni
Estadio Wanda Metropolitano
Indirizzo
Estadio Wanda Metropolitano, 28022 Madrid, Spain
Linea Assistenza

+44 20 3870 3444
Bisogno d'aiuto? Risponderemo volentieri alle tue domande!